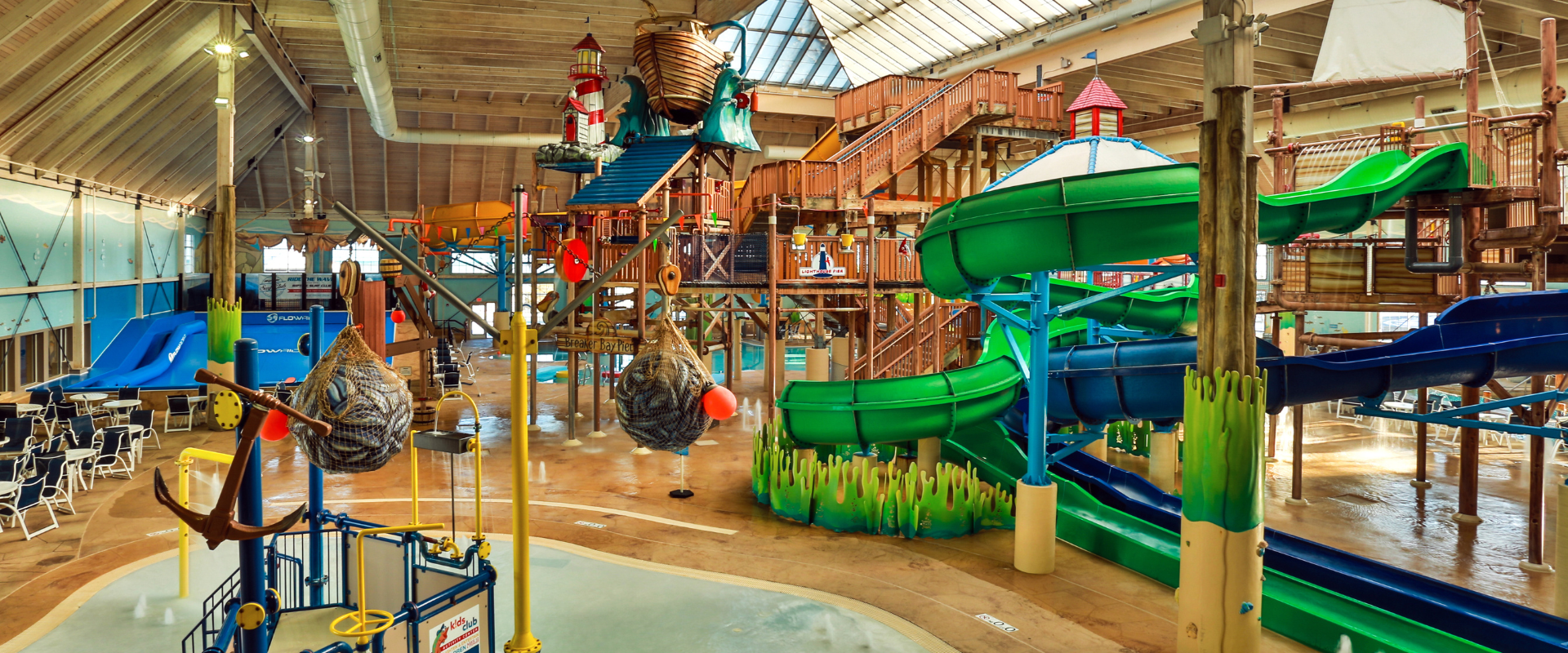 Rules and Regulations
Guest Code of Safety and Conduct
For your safety and enjoyment at Breaker Bay Waterpark, please carefully read all of our rules and regulations. We look forward to you enjoying a safe and fun stay at Blue Harbor Resort in Sheboygan, WI.
Failure to follow any of the regulations, conditions, and instructions set forth below may result in serious injury to yourself or other individuals. Individuals not following Park rules and safety instructions will be subject to immediate ejection from the Park and Resort without refund or other compensation.
HAVE A BALL AND PLAY IT SAFE
Read all signs and listen to lifeguard instructions. Our expert lifeguards are recognized as being in the top 5 percent in the nation, so heed their advice and have a great time.
MEASURE UP
Riders must be 48″ tall to ride the tube slides alone. Riders under 48″ tall may ride with a responsible adult on a double tube.
Riders must be at least 42" to ride the body slides. Double riding, life jackets, and footwear are not permitted on this ride.
FOLLOW THE DOS AND DON'TS
Do wear your wristbands on a wrist at all times. Don't bring toys into Breaker Bay or the outdoor pool. Don't run: It's prohibited in the waterpark.
LEAVE FOOD, BEVERAGES, AND CIGARETTES BEHIND
State law prohibits the use of glass, coolers, or any carry-in food in the waterpark or outdoor pool areas. And our indoor and outdoor pool areas are smoke-free environments.
KEEP YOUR CREW CLOSE
Know where to meet your group at all times. Children 16 and under must be accompanied by an adult 21 or over. We require a minimum of one adult chaperone for every five children.
STAY HYDRATED
The waterpark is 84 degrees year-round, so drink plenty of water.
SHOWER AFTER PLAYING
Our facilities are conveniently located for you to rinse off.
DON'T SPREAD THE GERMS
Please refrain from using the waterpark if you are feverish or have flu-like symptoms.
BUNDLE UP
Swim diapers are available for purchase throughout the waterpark.
STAY COOL
Limit hot tub use to 15 minutes.
Remember that if you're a Blue Harbor Resort guest, check-in begins at 4 p.m. but you are welcome to arrive as early as 1 p.m. to play in the waterpark on your day of arrival. For your convenience, you may leave your luggage in your vehicle and carry in a small bag containing your waterpark necessities. Locker facilities are available for a nominal fee, but space is limited.
A $25 fee will be charged per person if you would like to receive your waterpark passes before 1 p.m. on the day of arrival.
Checkout is 11 a.m. on the day of your departure, but once again you are welcome to stay and play until 4 p.m. at our adventurous water park near Milwaukee.
For your maximum safety and enjoyment while visiting our waterpark, please keep the following guidelines in mind.
PLEASE OBEY THE LIFEGUARDS AT ALL TIMES
They are staffed so that you may experience our rides to the utmost enjoyment while remaining safe.
For your safety, the facility routinely conducts drills and Vigilance Awareness Training. For further information, see a waterpark manager.
GENERAL RULES THAT APPLY THROUGHOUT THE WATERPARK:
No dunking, no shoulder riding, or rough play
No running
No diving or jumping into pools
No double riding or chains
Wristbands must be worn
Towels must stay in the waterpark
Swim diapers must be worn by children age four and under
Blue Harbor Resort requires that guests wear appropriate swim attire. Cut-off jeans, see-through suits, and thong suits are not permitted.
No outside food/beverage allowed
Only coast guard approved life jackets
ACTIVITY POOL
No shaking, twisting of or standing on floatables.
LILY HOPPER
The lily pads are a one-way activity and only one guest at a time per Lily pad
Children under 48″ must be accompanied by an adult
No climbing on ropes
Guest must exit water area immediately after falling off pads (they can not get back on or swim in this area)
BODY SLIDES
One rider on a slide at a time
Children must be at least 42" to ride the body slides
Guests must ride feet first with arms across chest and exit splash pool quickly to the sides
No life jackets are permitted on this ride
Guests are not allowed to sit at the end of the slide
TUBE SLIDES
Children under 42'' must be accompanied by an adult
Correct riding position requires guests to sit in the hole with feet on top of the tube
Single tube, one rider only. Double tube, no more than two riders
Guests must exit splash pool quickly; Steps for exit only (entering/sitting not allowed)
Life jackets are permitted on this ride
HOT TUBS
No jumping/diving, climbing on rocks
Children under the age of 16 are not allowed in the hot tub
NO rough play
THE RIPTIDE
TOWELS
Towel cards are handed out at check-in for resort guests. Each guest will receive 1 towel card. Your towel card can be redeemed for 1 towel at a time and exchanged as many times as you would like during your stay.
Outside guests can purchase a towel card for $3 per person. Outside guests are recommended to bring their own towels to avoid additional fees.
ELLIS & ASSOCIATES CERTIFIED LIFEGUARDS
In an ongoing effort to ensure guest safety and satisfaction, Blue Harbor Resort has partnered with Jeff Ellis & Associates (E&A), a private, outside consulting firm specializing in aquatic risk management. To keep our standards and practices at the highest levels possible, Blue Harbor will typically do a number of drills and skills tests during hours of operation. In addition to this, Ellis & Associates will perform four unannounced operational audits per year at each facility, testing them in areas of professionalism, diligence in scanning techniques and rescue skills, as well as their ability to manage an aquatic emergency. If you have any questions regarding our Risk Management Program, please feel free to contact an aquatic manager.
DRESS CODE
In keeping with our family-friendly atmosphere, and for health and safety reasons, Blue Harbor Water Park and Resort strictly enforces a dress code. Proper swimwear is required. Swimwear must be made of nylon swim material. No cotton or non-nylon material may be worn in the water or on slides at any time. Guests are welcome to wear swim-style nylon shirts on all of our rides. Swimwear with rivets or any other metal ornamentation is not permitted on the water slides. Tattoos or clothing with offensive language, depictions of sexual acts or nudity or graphics depicting messages of violence are not permitted at any time. Water Park or Resort admission may be denied if clothing or tattoos are deemed to be inappropriate by management and the Guest refuses all reasonable options. Shirts cannot be turned inside out as a solution.
INAPPROPRIATE BEHAVIOR
Should any action by a guest be deemed inappropriate by management, management reserves the right to take action against the guest which may result in, but is not limited to, the guest being ejected from the park or resort without a refund.
LANGUAGE
Guests using profanity or abusive language, symbols or gestures may be ejected from the park or resort without a refund.