Breaker Bay Waterpark
Due to resort occupancy, daily waterpark passes to non-resort guests will not be available for purchase until further notice.
Hours:
*May 8th - May 22nd
Indoor Waterpark
Friday: 4 pm - 8 pm
Saturday: 10 am - 8 pm
Sunday: 10 am - 2 pm
Memorial Day Weekend
Indoor Waterpark
Friday, May 27th: 4 pm - 8 pm
Saturday, May 28th - Monday, May 30th: 10 am - 8 pm
Summer Hours
Indoor Waterpark
Friday, June 3rd: 1 pm - 8 pm (limited attractions until 4 pm)
Saturday, June 4th: 10 am - 8 pm
Sunday, June 5th: 10 am - 2 pm
Friday, June 10th - Monday, September 5th: 10 am - 9 pm
Tuesday, September 6th: Closed
Monday, October 17th - Thursday, October 27th: Closed
Breaker Bay Policies
Children ages 2 and under are FREE.
Children 2 and under must be accompanied in the water by an adult with a paid waterpark swim pass.
Children under 16 years of age must be accompanied by an adult 21 or over.
Click Below to download the Riptide Waiver
Pier Fun Zone Arcade and Lost Temples Mini Golf follow the same hours as Breaker Bay Waterpark.
There's something magical about lounging comfortably in a bathing suit, a beverage in your hand and happy kids splashing at your feet — if the weather outside is beautiful or not. There's no wrong season to escape to Breaker Bay, Blue Harbor's year-round indoor waterpark in Wisconsin.
It's always a balmy 84 degrees inside this 54,000-square-foot entertainment area and waterpark. Breaker Bay's Sheboygan waterpark offers the ideal escape for both kids and parents: It's large enough to afford adventurous young ones a touch of independence yet small enough for parents to feel kids are safe and supervised. And with the debut of The Riptide, the only double surf simulator in eastern Wisconsin, the thrills will keep your kids coming back for more.
84 Degrees Indoors
54,000 Square Feet
Hot Tub
Surf Simulator
Lazy River
Lily Hopper
Water Basketball
Dueling Tube Sides
2 Waterslides
Toddler Tides
Private Cabanas
Outdoor Pool
Rocky Bottom Snack Shop
Packages & Specials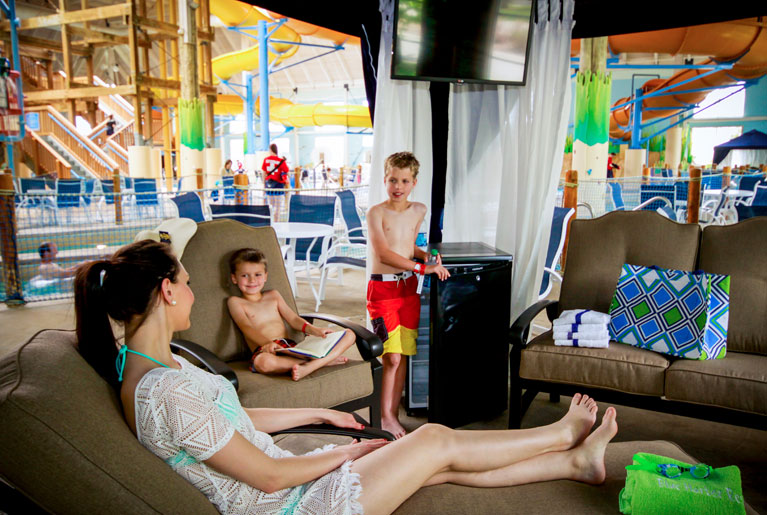 Private Waterpark Cabana Rental
Cabana rentals for resort guests.Make it easy for the kids to come to find you while you relax in co...
Learn More
Luxury Outdoor Cabana Rental
Luxury Outdoor Cabana rentals for resort guests.Reserve a space all your own, and take in the sun on...
Learn More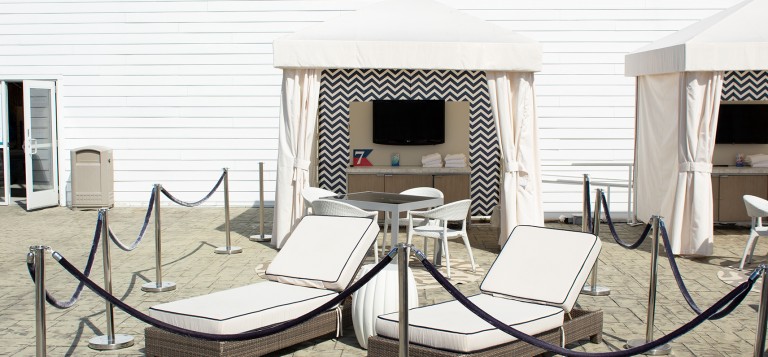 What We Offer
Book a private cabana so you can have your own space in the waterpark or outside on the pool deck.
Learn More
Specials
Check out our new specials to see the best ways to spend your day at Breaker Bay.
Learn More