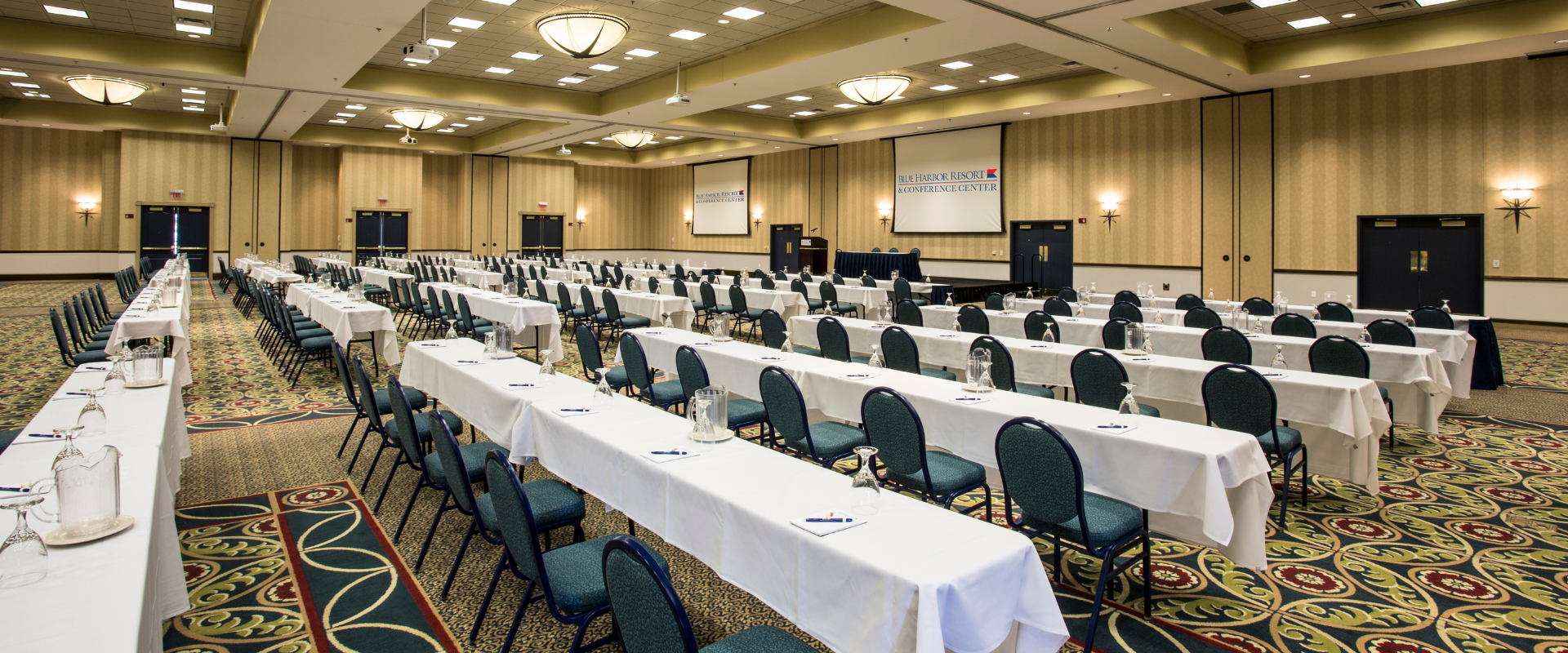 Meeting & Event Venue
Wisconsin Meetings
Sheboygan, WI Meetings
Blue Harbor Resort & Conference Center is a premier meeting venue in Wisconsin just a short drive from Madison, Milwaukee, or Green Bay as well as Chicagoland and Northern Illinois. Located on the shores of Lake Michigan in Sheboygan, WI, we have event space with an abundance of natural light and views of the lake in addition to private patios with dedicated bonfire area.
Conference Facility
The conference center in East Central Wisconsin also features HDMI ceiling-mounted LCD projectors and drop down projection screens that enable you to connect with your laptop with Windows operating system for seamless presentations. With complimentary parking adjacent to the conference center, all the function rooms located in one area of the resort, and guest rooms nearby, conference attendees will enjoy less walking unless they choose to take a stroll along the boardwalk on the beach.
Function Space
Blue Harbor Resort & Conference Center offers more than 16,800 square feet of meeting and convention space with a Grand Ballroom spanning 81' x 127' (9,882 square feet) that may be divided into seven different break out rooms to accommodate up to 1,100 guests, and features 16' ceilings.
Floor Plans
Our function space will accommodate a wide variety of conferences, meetings, and conventions. Click the room description to view the location of the function space on the floor plan and details regarding the dimensions, square footage, and seating capacity.
Function Space Floor Plans
Dimensions: 81' x 127'
Total SqFt: 9,882
Seating Style:
Capacity
Banquet
544
Classroom
432
Theater
1,100
Reception
1,250
Screens
7
Dimensions: 81' x 45'
Total SqFt: 3,645
Seating Style:
Capacity
Banquet
224
Classroom
144
Theater
270
Reception
456
Screens
2
Dimensions: 81' x 81'
Total SqFt: 6,561
Seating Style:
Capacity
Banquet
336
Classroom
288
Theater
645
Reception
871
Screens
4
Dimensions: 81' x 86'
Total SqFt: 6,966
Seating Style:
Capacity
Banquet
360
Classroom
324
Theater
690
Reception
871
Screens
5
Dimensions: 81' x 36'
Total SqFt: 2,916
Seating Style:
Capacity
Banquet
144
Classroom
108
Theater
225
Reception
415
Screens
2
Dimensions: 81' x 41'
Total SqFt: 3,321
Seating Style:
Capacity
Banquet
160
Classroom
108
Theater
255
Reception
415
Screens
3
Dimensions: 27' x 41'
Total SqFt: 1,107
Seating Style:
Capacity
Banquet
48
Classroom
36
Theater
56
Reception
100
Screens
1
Dimensions: 54' x 41'
Total SqFt: 2,214
Seating Style:
Capacity
Banquet
96
Classroom
72
Theater
112
Reception
200
Screens
1
Dimensions: 20' x 30'
Total SqFt: 700
Seating Style:
Capacity
Banquet
48
Classroom
24
Theater
50
Reception
50
Screens
n/a
Dimensions: 115' x 35'
Total SqFt: 4,025
Seating Style:
Capacity
Banquet
100
Classroom
n/a
Theater
250
Reception
450
Screens
2 TVs
Dimensions: 11' x 9'
Total SqFt: 300
Seating Style:
Capacity
Banquet
n/a
Classroom
n/a
Theater
n/a
Conference
10
Screens
1 TV
Seating Style:
Capacity
Banquet
80
Classroom
n/a
Theater
48
Reception
195
Screens
n/a
Dimensions: 35' x 34'
Total SqFt: 1,190
Seating Style:
Capacity
Banquet
72
Classroom
60

Theater
75

Reception
100
Screens
n/a